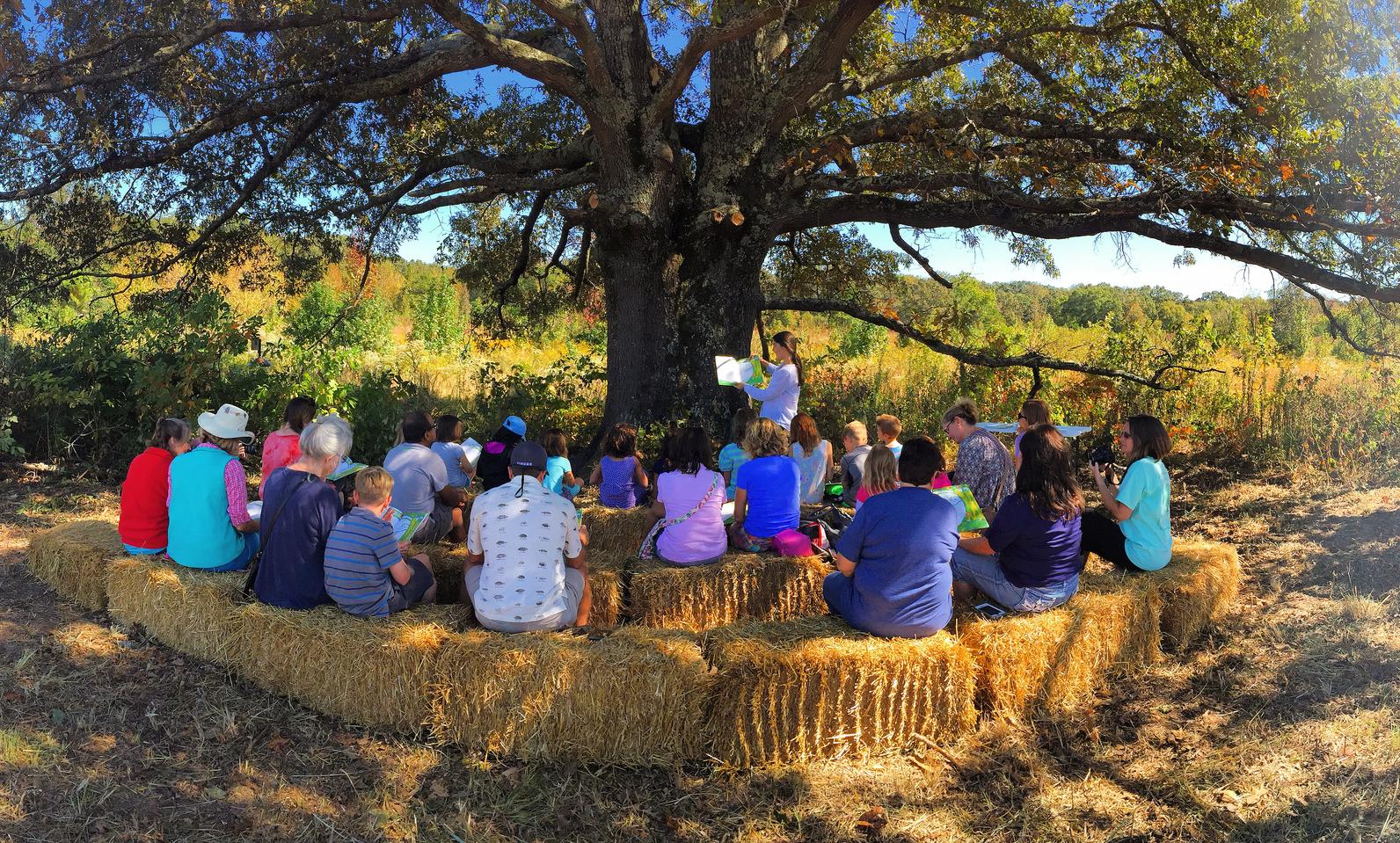 Families and friends gathered on Sunday and participated in a day of activities celebrating the habitats of the Mississippi Hill Country. The afternoon began with a wagon ride out to the 300 year old Sharecropper Oak, one of several remnant shade trees remaining from prior agricultural days, where author and filmmaker, Alison Fast, led an interactive reading of her children's book, Marigold and the Faraway Tree. On hay bales, under the shade of the oak, participants listened to the story of a young girl, Marigold, as she moves through a season of her life. Inspired by the ancient Faraway Tree and the animals it supports, Fast described how we can spread seeds of kindness and awareness, both toward wildlife and each other. Strawberry Plains educator Mitch Robinson then described the importance of oaks and other native flora for supporting birds and other wildlife, and how we can make these important changes at home and in our yards through Audubon's native plant campaign and programming to create Bird-Friendly Communities.
The group then ventured over to Sharecropper Pond where artist Robin Whitfield led everyone in an introduction to making art working with natural materials, including clay, charcoal, leaves, and flowers. Splitting in groups, everyone set out to gather materials from the wildflower and grass meadows, and took advantage of the recent drought to hike into the drying pond, finding tracks of deer, raccoons, coyotes, and shorebirds, including Great Blue Herons. Whitifield then led through techniques and ways to apply their found materials to watercolor paper, using stencils, brushes and their hands, creating beautiful pieces of natural art work to take home and remember this special day.
Join Strawberry Plains for their next program, Fall Leaf Workshop, on October 29th for another engaging day of fun and activities. Visit http://strawberryplains.audubon.org/events/ or follow Strawberry Plains on facebook (https://www.facebook.com/StrawberryPlainsAudubonCenter) to learn more about this event and stay engaged for future opportunities.