Southeastern Avian Research (SEAR)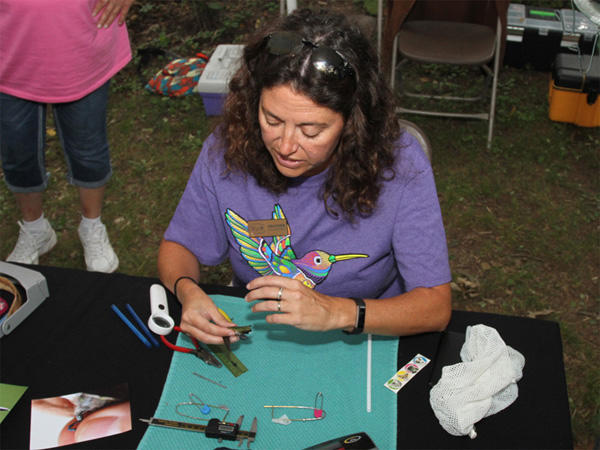 Southeastern Avian Research (SEAR) is a 501(c)(3) non-profit organization that was established to promote the conservation and preservation of hummingbirds and other neo-tropical migrants through scientific study and education. Located in Clarksville, Tennessee and under the leadership of Hummingbird Study Group crew member Cyndi Routledge, SEAR's current projects include an ongoing winter hummingbird banding study, a hummingbird migration and nesting study, participation in the Eastern Loggerhead Shrike Working Group research as well as participation in Project Owlnet, a network of hundreds of owl-migration researchers in North America.
Southeastern Avian Research is delighted to have been invited to participate for a fourth straight year in the Hummingbird Migration & Nature Celebration, and honored to be able to continue the great tradition of hummingbird education and banding established by Bob and Martha Sargent and the Hummingbird Study Group. The SEAR team will be banding hummingbirds at two separate tents all three days of the festival.
Learn more about Southeastern Avian Research: http://southeasternavianresearch.org/
World Bird Sanctuary, Darcy Evelhoch and Annie Griggs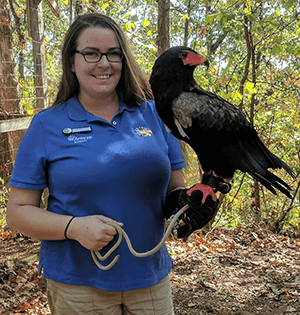 Growing up in Michigan, Darcy went to high school and college in California, where she received a BA in Anthropology from University of California, Santa Cruz. She has an Associate's degree in Exotic Animal Training and Management, earned from Americas Teaching Zoo at Moorpark College, and has experience working with and training a wide variety of animals but has always loved birds. At the World Bird Sanctuary, she pursues everything she has wanted to do: managing the welfare of birds, conservation, public education, training, and working with one of her favorite groups of animals every day: birds! On top of that she works with amazing people and gets to share her passion for animals with the public.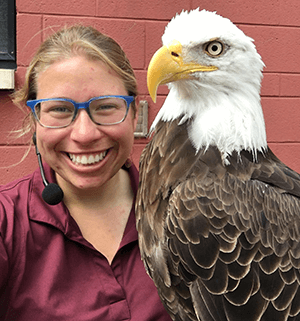 Annie is from Lexington, KY, and graduated from the University of Kentucky in May 2016 with a degree in Biology and a minor in Spanish. During college, she conducted foraging research with sparrows and hummingbirds, while also training service dogs. She's always been an animal lover – so naturally her career would follow! Upon graduation, Annie worked as an Environmental Educator in Georgia and found her passion for teaching about animals, in particular raptors. She loves inspiring people to care about animals and the world around them, and began at World Bird Sanctuary in 2017 at the Assistant Supervisor of the Milwaukee County Zoo show before becoming a full-time Naturalist.
Featured Program:
Raptor Awareness
World Bird Sanctuary's most popular program! This program gives the audience the opportunity not only to see multiple species of birds of prey, but the experience of them flying just inches over their heads! Learn fascinating facts about why these birds are so unique, their important presence in our habitats and what you can do to help ensure their survival. In addition to a Harris' Hawk, Barn Owl and Falcon, a very special guest will also be on hand, an American Bald Eagle! Learn about our National Symbol and how they made a remarkable recovery after being on the endangered species list.
Learn more about the World Birds Sanctuary and their mission:
http://www.worldbirdsanctuary.org/about/our-history/
Fannye A. Cook, portrayed by Dr. Cathy Shropshire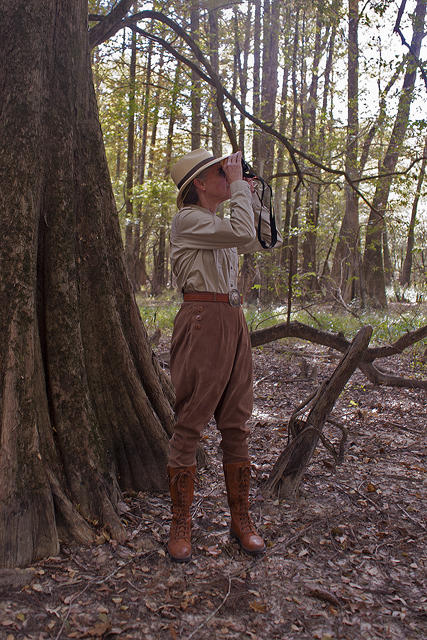 Fannye A. Cook was a pioneer among scientists, conservationists, and women. Miss Cook was born in 1889 in Crystal Springs, Mississippi, when women couldn't vote, serve on juries, and were considered generally unsuited for the serious business of politics or science. Still, none of the naysayers deterred Miss Cook, and may have emboldened her. A 1911 graduate of what is now the Mississippi University for Women, she was the driving force behind creating the Game and Fish Commission (now the Department of Wildlife, Fisheries and Parks), she founded the Mississippi Museum of Natural Science, which bears her name, she led the push to create a system of wildlife management areas and the push to protect the Gulf of Mexico's barrier islands, catalogued Mississippi's flora and fauna, spent her life researching and teaching, and did so much more.
Featured Program:
Pursuing A Dream – Protecting Mississippi's Natural Resources, A Portrayal of Fannye A. Cook
A glimpse at Fannye Cook's remarkable life unfolds in this biographical portrayal performed by wildlife biologist Cathy Shropshire. Dr. Shropshire made a silent debut as Fannye Cook in a 2010 Mississippi Public Broadcasting documentary. A wildlife biologist, Cathy, is retired from the Mississippi Department of Wildlife Fisheries and Parks, served for over 11 years as executive director of the Mississippi Wildlife Federation, and is now the theatrical incarnation of Fannye Cook. She is the creator, writer and costume designer of "Pursuing a Dream - Protecting Mississippi's Natural Resources." She has performed as Miss Cook in venues throughout Mississippi.
Tammy Greer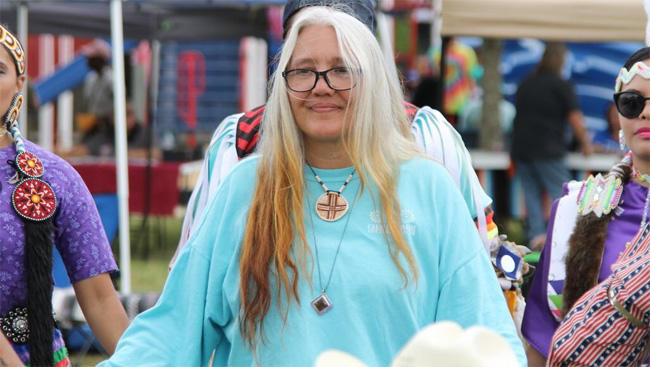 Tammy Greer, Ph.D., is a member of the United Houma Nation and an associate professor of psychology at The University of Southern Mississippi where she teaches statistics, directs the Center for American Indian Research and Studies, and developed and tends the Southern Miss Medicine Wheel Garden. She speaks on topics of Native plants and their native uses to a wide variety of audiences including Native tribes and Native plant groups. Dr. Greer organizes the Petal Southern Miss Powwow each year where tribal people from all over the Southeast gather to celebrate and share their tribal ways, meet new friends and see family. Twice yearly, Dr. Greer and her students host a Native Ways School Day where school children in the Hattiesburg area hear Native stories, build Native crafts, and play Native games, with the school day culminating in a game of stickball. Dr. Greer has two children, Kaliq and Kyla, who are always up for a game of stickball.
Featured Program:
Mississippi Natives: The Tribes, Plants and Cultures of our State
Native plants serve as the foundation for our local ecosystems, including the humans that inhabit them. For this program, Dr. Greer will talk about historic and current Native tribes in this area and introduce the audience to the native plant and material cultures (e.g. baskets, dress, tools) of Mississippi tribes. She will describe the historical and current uses for native plants among Southeastern American Indians, and tell their Native stories, including those about our ancestral relatives, the hummingbirds.
Kristina Mitchell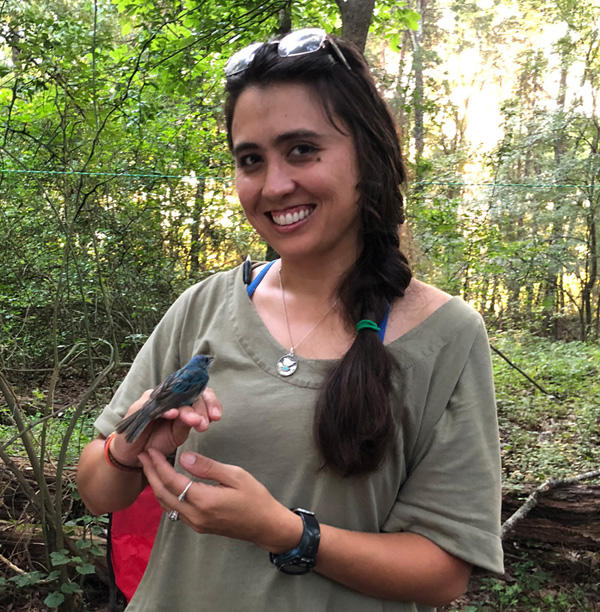 Kristina Mitchell is an independent avian biologist who received her B.S. in Wildlife Ecology and Management from Arkansas State University and her M.S. in Wildlife, Fisheries, and Aquaculture from Mississippi State University. Her work for state, federal, academic, and NGO entities over the past 18 years to collect and interpret data for better understanding bird populations has brought her many adventures as she moved across the USA. Originally from West Memphis, Arkansas, Kristina decided in 2016 to bring back home to the Mid-South her passion to promote bird conservation through research and outreach. She settled in Southaven, Mississippi, with her husband Hal and their many critters. Soon thereafter, she began volunteering to conduct bird studies at Strawberry Plains Audubon Center.
Featured Program:
Bird Banding Research at Strawberry Plains Audubon Center​
Bird banding involves safely capturing birds in nets, marking them with unique, lightweight bands, recording biological data about them, and releasing them with hopes of recapturing them in the future. Bird banding has been an integral resource for researchers and wildlife managers to understand bird movements and population changes over time. In addition, bird banding is an important tool for game bird management and for educating the public about science and birds. Kristina, a federally licensed bird bander, will discuss these topics, the history of bird banding, and past and current bird banding research at Strawberry Plains Audubon Center (SPAC). Since 2016, Kristina and her crew of SPAC staff and volunteers have banded hundreds of songbirds and their close relatives (e.g., woodpeckers, cuckoos) during spring migration, fall migration, and the breeding season; and they plan to use the data to understand local bird population movements and changes over time while also contributing data to the federal Bird Banding Lab. Come hear what we've learned thus far from our bird banding research of songbirds (and their close relatives) that pass through and reside at SPAC.
John Rowden
John Rowden joined Audubon in 2009 when he was hired by New York City Audubon to direct citizen science and outreach for the chapter throughout the city. In 2013 he transitioned to the National Audubon Society, first working on the Toyota TogetherGreen program before becoming Audubon's director of community conservation in 2016. His work at Audubon has focused on engaging new audiences in Audubon's conservation efforts, personally and through Audubon's extensive national network. He earned his PhD in Zoology from Duke University.
Featured Program:
Planting Hope: Supporting Bird Conservation with Native Plants
If you want to attract birds to your yard or garden, start with native plants, which provide birds with what they need, right when they need it—and hummingbirds are no exception! Audubon's Director of Community Conservation will explore the importance of native plants for hummingbirds—and all of our birds—and show you how to create your own bird-friendly yard or garden. He'll give a tour of Audubon's native plants database: Wherever you live, you can enter your zip code and create a customized list of plants native to your area and the types of birds they attract—and get connected to local native plant resources and expertise. By taking part in Audubon's Plants for Birds program, everyone can do their part to help support breeding and migratory birds imperiled by habitat loss and climate change.
Follow these links to learn more about Audubon's Plants For Birds and Native Plants initiative:
https://www.audubon.org/plantsforbirds
https://www.audubon.org/native-plant
Cyndi Routledge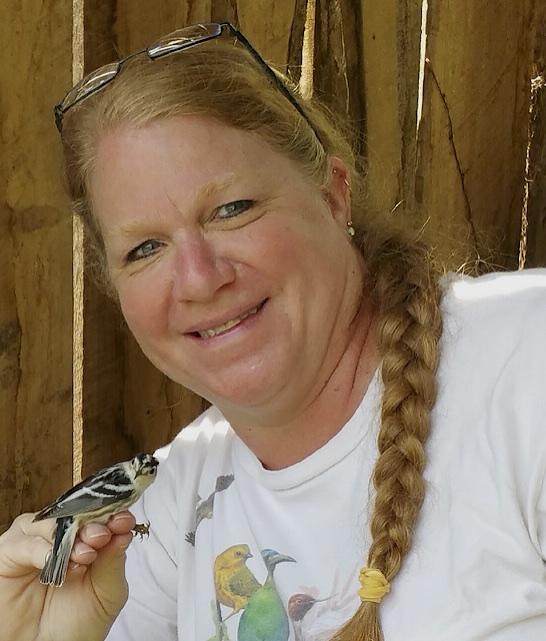 Cyndi Routledge is a Federal Licensed Master bird bander and founder of Southeastern Avian Research in Clarksville, Tennessee. In addition to her non-profit research work with Hummingbirds, Loggerheads Shrikes, and Northern Saw-Whet owls, Cyndi does avian conservation contract work for the Tennessee Wildlife Resources Agency and manages the Tennessee Watchable Wildlife webpage. Cyndi has been the secretary of the Tennessee Ornithological Society for the last 9 years, President of the Nashville Chapter of TOS for the last 3 years, past President of the Warioto Audubon Society, and longtime volunteer for the Hummer Bird Study Group. Additionally Cyndi works with the International Crane Foundation and Wheeler National Wildlife Refuge as a "Crane Ambassador" to educate the public and insure the preservation of the Whooping Crane, one of the world's most endangered species of birds. She's been married to her husband Dr. Steve Routledge for 36 years. They have 4 children and 4 grandchildren.
Featured Program:
Hummingbirds!
It's a fact, we all love hummingbirds. Their dazzling colors, amazing flying skills and feisty spirit have surely captured our attention and admiration as they zoom through our gardens sipping nectar from our flowers and feeders. Yet so much of their lives remains a mystery. Join Master Hummingbird Bander and researcher Cyndi Routledge as she unlocks some of those mysteries, debunks some common myths and takes you on journey through the daily life of this cherished avian species.
Bob Tarter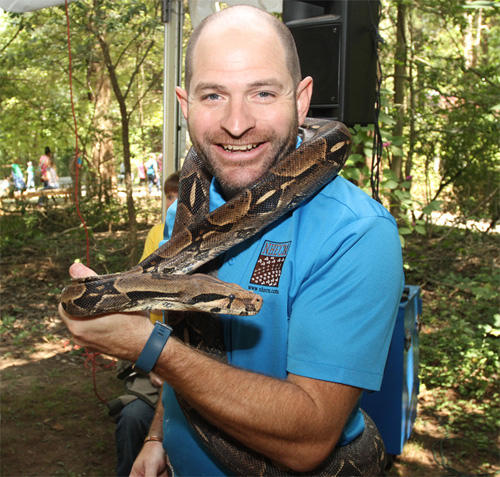 Bob Tarter received his degree in Natural Resources and Environmental Science from the University of Illinois, Urbana-Champaign. Bob Tarter worked for the Indiana Department of Natural Resources for several years as a wildlife biologist and later with Ducks Unlimited and their waterfowl research program in North Dakota. Bob incorporated the Natural History Educational Company of the Midsouth (NHECM) to educate children about the natural world and reach out to others who may never have an opportunity to view and learn about these animals up close.
Dr. Dan Scheiman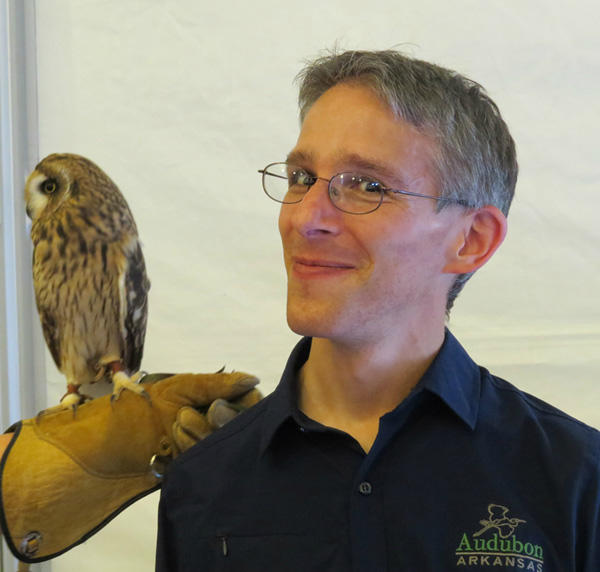 Dr. Dan Scheiman is Bird Conservation Director for Audubon Arkansas, a state office of the National Audubon Society, based at the Little Rock Audubon Center. Dan has a B.S. from Cornell University, M.S. from Eastern Illinois University, and Ph.D. from Purdue University. He and his coworkers monitor birds, restore wildlife habitat, and help Arkansans improve their local environments. He has been birding for over 25 years across 7 countries and has seen 1,577 bird species. As a volunteer regional reviewer and hotspot editor for eBird he has purview over Arkansas, western Tennessee, Oklahoma, and four countries. He also enjoys butterfly watching and native plant gardening.
Featured Program:
Birding 101 with Dan the Bird Man
Birdwatching is one of the most popular pastimes in America. If you've been considering joining the ranks of the 47 million birders in the United States but don't know where to begin, there's no better time than the present to take the plunge—or at least dip your toes in. Audubon believes birding is for everyone and, if you're a novice, this handy primer will give you the tools you need to venture into the field with confidence. Dr. Dan the Bird Man will introduce his tips and techniques needed to spot and identify our feathered friends.
Mississippi Museum of Natural Science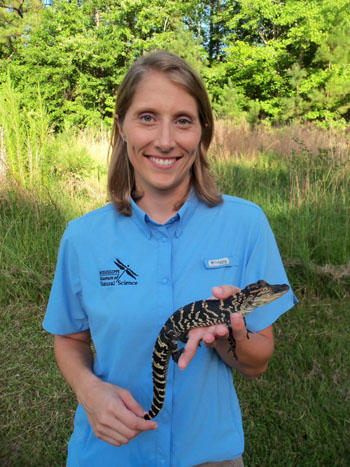 The Mississippi Museum of Natural Science has four Outreach Educators that cover the state. Deb Waz is the educator for north Mississippi, Jackie Henne-Kerr covers the delta/central region, Jessica Eaves the southeast and Sabrina Cummings the southwest. They travel their regions visiting schools, community groups, festivals, etc. informing the public about wildlife and endangered species in Mississippi. Each educator is a Project WET and Project WILD facilitator, helping teachers learn how to integrate wildlife and water education into their classroom. Their coworkers include an American alligator, snake, and turtles. Learn more about the Mississippi Musem of Natural Science: http://www.mdwfp.com/museum​
Terry Vandeventer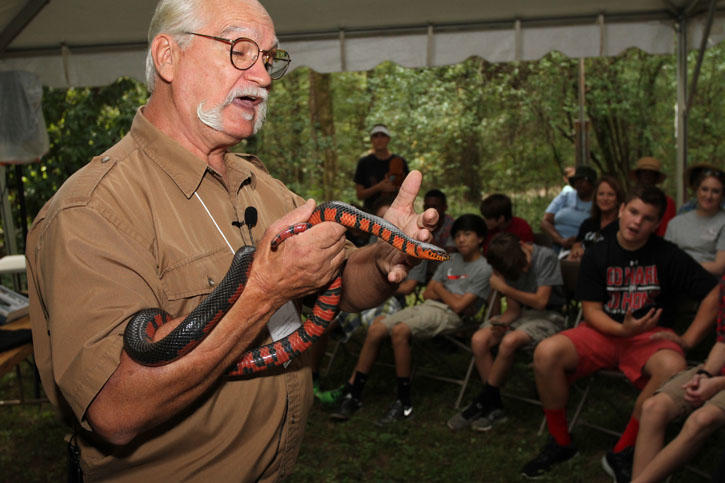 Terry Vandeventer is the owner of The Living Reptile Museum Educational Productions, he regularly lectures at professional symposia across the United States and in several foreign countries. A popular personality on television and radio call-in shows, Terry Vandeventer is also the author of numerous scientific and popular publications on snakes. Formerly in charge of the Jackson Zoo Reptile Department, he now serves as Herpetology Field Associate with the Mississippi Museum of Natural Science.
How you can help, right now
Join Our Flock
Help us promote wildlife diversity and inspire people to take conservation action. Come learn about using native plants around your home or best management practices for your land.