Mississippi Wildlife Rehabilitation

Mississippi Wildlife Rehabilitation, Inc. is an all-volunteer, non-profit organization dedicated to the rehabilitation and release of injured and orphaned native wildlife in north MS; and to the education of our community about the value of wildlife, their habitats, and environmental conservation. They has partnered with the US Army Corps of Engineers at Arkabutla Lake, who provided a land grant of 154 acres for the construction of the Arkabutla Lake Wildlife Rehabilitation and Nature Center – or the ARK for short. The property is located on Hwy 304 between Eudora and Hernando, MS and is currently open for day hikes, with over 2 miles of woodland hiking trails and scenic views of Arkabutla Lake. Theyare currently raising funds for the construction of the nature center. In 2016 they formed the Coldwater River Nature Conservancy, which is dedicated to the shared vision of enjoying and protecting the natural ecosystems of the Coldwater River watershed by providing access to trails and fostering an appreciation for the environment through land conservation and education.
Kate Friedman is the volunteer Education Director and a board member for Mississippi Wildlife Rehabilitation, Inc. She has worked in the environmental education field for over 30 years and is also an experienced bird trainer. Kate has worked with species ranging from bald eagles to screech owls, as well as parrots and many others. Kate is also the Director of Memphis Kids in Nature, a non-profit program that provides outdoor experiences designed to give inner-city children the chance to experience and enjoy nature.
Debbie Crum is the Executive Director for Mississippi Wildlife Rehabilitation, Inc. She is responsible for for all the operations of the organization, including raptor rehabilitation and coordinating fundraising events. Debbie is also employed by the Mackie Wolfe Zientz & Mann law firm.
Stephanie Hogan is the Assisstant Wildlife Director for Mississippi Wildlife Rehabilitation, Inc. and is their songbird expert. In addition to raising hundreds of orphaned birds each year and treating injured songbirds and raptors, Stephanie is also responsible for the care and training of our education ambassadors, and the daily operations of our wildlife hospital.

To learn more about Mississippi Wildlife Rehabilitation, visit: http://www.mswildliferehab.com/ or
https://www.coldwaternatureconservancy.org/arkabutla-lake-rehabilitation-nature-center/
Featured Program
"Are You My Mother? Tales of Raising Baby Birds"
Mississippi Wildlife Rehabilitation, Inc. cares for hundreds of raptors and songbirds every year. During spring and summer most of our patients are orphaned baby birds. Many are rescued, raised, and released routinely with no fanfare. Others have unique stories of their journeys back to the wild. We'll share some of our more fascinating stories, as well as dispel some of the myths about birds and wildlife rehabilitation.

Southeastern Avian Research (SEAR)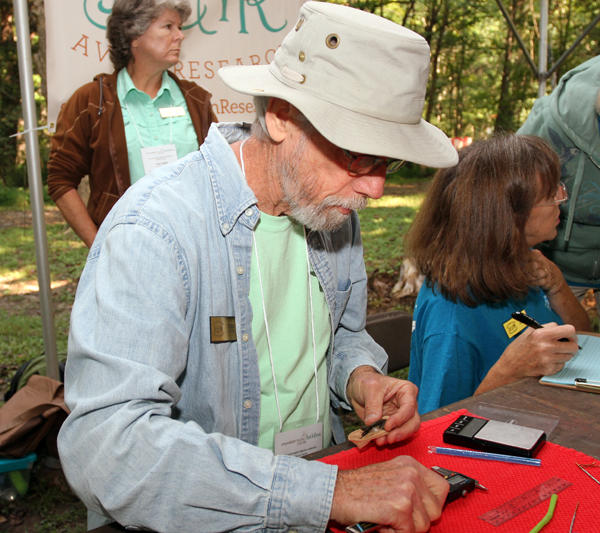 Southeastern Avian Research (SEAR) is a 501(c)(3) non-profit organization that was established to promote the conservation and preservation of hummingbirds and other neo-tropical migrants through scientific study and education. Located in Clarksville, Tennessee and under the leadership of Hummingbird Study Group crew member Cyndi Routledge, SEAR's current projects include an ongoing winter hummingbird banding study, a hummingbird migration and nesting study, participation in the Eastern Loggerhead Shrike Working Group research as well as participation in Project Owlnet, a network of hundreds of owl-migration researchers in North America.
Southeastern Avian Research is delighted to continue their participation in the Hummingbird Migration & Nature Festival, and honored to be able to continue the great tradition of hummingbird education and banding established by Bob and Martha Sargent and the Hummingbird Study Group. The SEAR team will be banding hummingbirds at two separate tents both days of the festival.
Brian "Fox" Ellis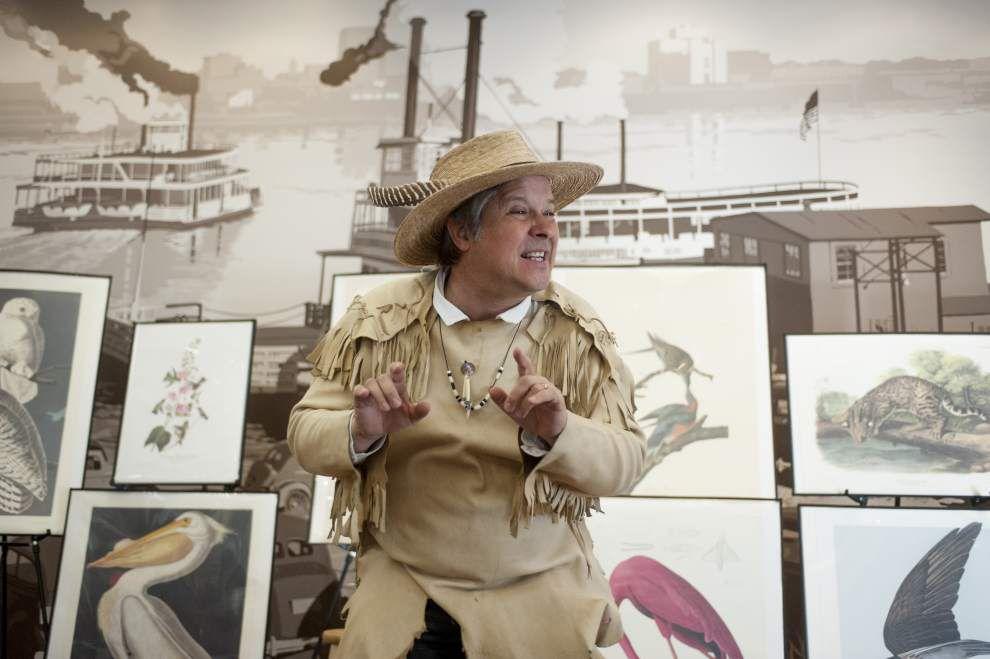 Brian "Fox" Ellis is an internationally renowned author, storyteller, and naturalist who has been a featured speaker at environmental conferences and birding festivals across the country. He is the author of thirty books including the critically acclaimed Learning From the Land: Teaching Ecology Through Stories and Activities. His first children's picture book, THE WEB at Dragonfly Pond was selected as Conservation Education Book of the Year. He portrays more than two dozen historical characters with a special emphasis on historical scientists, most famously John James Audubon, Charles Darwin, and Meriwether Lewis.
To learn more about Fox Tales International and Brian's work, visit: https://www.foxtalesint.com/
Featured Programs:
Adventures with John James Audubon
Spend an hour in the studio of one of America's greatest naturalists and wildlife artist. Listen to tales of his adventures in the wilds of Mississippi in 1820! Audubon will bring to life bird behavior, focusing on the birds you are most likely to see as you go bird watching in the Mississippi Hill Country.
Hummingbird Tales
Hummingbirds are a unique species found only in the New World. Native American cultures from the Peruvian Andes, across New Mexico's deserts to the Appalachian Mountains all tell tales of these winged jewels. Listen as storyteller Brian "Fox" Ellis tells the stories of how hummingbird earned its colors, why they sip nectar, and how hummingbird added stars to the heavens.
BIRDS ALONG THE TRAIL – The Ornithology of Meriwether Lewis
The Corps of Discovery was first and foremost a scientific expedition sent out by Thomas Jefferson to "observe the animals of the country," and the men collected more than 100 species of bird, more than 50 were new to science. With quotes from the journals and his own ornithological field notes, storyteller Brian "Fox" Ellis performs as Lewis to bring to life an important chapter of natural history through exciting stories and hands-on science based on his new book, Meriwether Lewis and the Corps of Discovery, (Fox Tales 2020).
Cyndi Routledge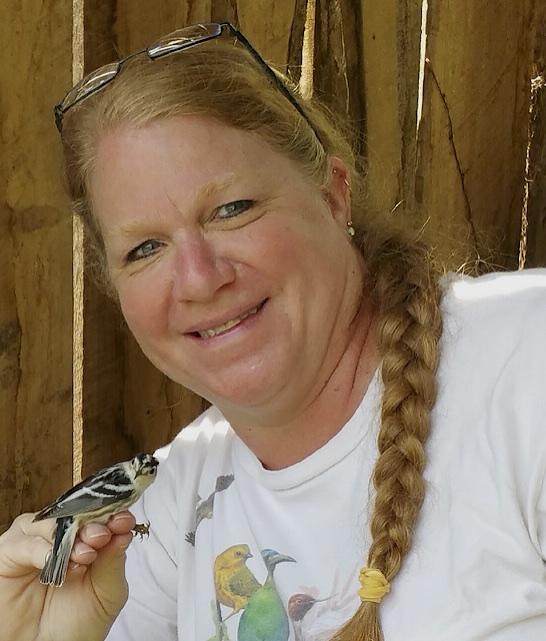 Cyndi Routledge is a Federal Licensed Master bird bander and founder of Southeastern Avian Research in Clarksville, Tennessee. In addition to her non-profit research work with Hummingbirds, Loggerheads Shrikes, and Northern Saw-Whet owls, Cyndi does avian conservation contract work for the Tennessee Wildlife Resources Agency and manages the Tennessee Watchable Wildlife webpage. Cyndi has been the secretary of the Tennessee Ornithological Society for the last 9 years, President of the Nashville Chapter of TOS for the last 3 years, past President of the Warioto Audubon Society, and longtime volunteer for the Hummer Bird Study Group. Additionally Cyndi works with the International Crane Foundation and Wheeler National Wildlife Refuge as a "Crane Ambassador" to educate the public and insure the preservation of the Whooping Crane, one of the world's most endangered species of birds. She's been married to her husband Dr. Steve Routledge for 40 years. They have 4 children and 5 grandchildren.
Featured Program:
Hummingbirds!
It's a fact, we all love hummingbirds. Their dazzling colors, amazing flying skills and feisty spirit have surely captured our attention and admiration as they zoom through our gardens sipping nectar from our flowers and feeders. Yet so much of their lives remains a mystery. Join Master Hummingbird Bander and researcher Cyndi Routledge as she unlocks some of those mysteries, debunks some common myths and takes you on journey through the daily life of this cherished avian species.
Animalogy with Dr. Shawna Adams and Bob Tarter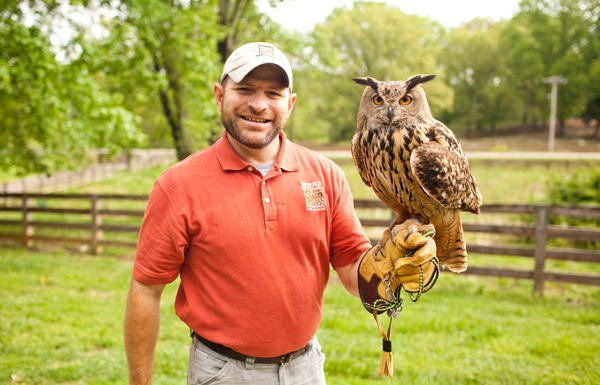 Bob Tarter has spent his life around animals, growing up in the Midwest in an agricultural family. Graduating from the University of Illinois with a BS in Natural Resources & Environmental Science, his first career was with INDNR as a Public Lands manager for an 8,000-acre FWA & Private Lands Biologist for the county assisting landowners with habitat improvements and wildlife management plans. After leaving IN, he worked for Ducks Unlimited in the prairie pothole region of North Dakota as a small mammal trapper and waterfowl nest researcher. Wanting to move to TN to be closer to his now wife while she was in Law School, he started his NHECM career. In 2005 Bob and his wife Beth purchased NHECM and ran the Live Animal Educational Program business. Over time they modernized the company and rebranded it as Animalogy. Pre Covid Bob traveled over 10 states in the SE USA and conducted over 350 educational programs annually at schools, libraries, federal and state parks & more. During the Covid times, Bob and his crew of programmers continued to conduct educational programs virtually and with prerecorded videos. 2022 is the 20th year Bob has been conducting Live Animal Programs, and very happy to be able to conduct In-Person programs again.
Shawna Adams, PhD, has worked with Animalogy since 2015. She is a former high school biology and chemistry teacher with 15 years of experience and over ten years of experience as a veterinary technician. She is now Dr. Adams and an instructor of biology at Dyersburg State Community College and the co-director of the NW TN STEM Hub, her doctorate is in P-20 and Community Leadership with a STEM specialization. Shawna is passionate about the need to offer educational outreach opportunities to our youth about the natural world and to encourage them to enjoy and appreciate science. You can contact Shawna at shawna@animalogy.org.
Featured Programs:
Tails & Tails
This program will showcase the different styles of tails our friends from the animal kindom, focusing on their features as well as their functions.
Animals from Around the World
Join us for an exploration of the amazing variety of animals found around the world. We will focus on different unique animals as well as explore the niches, or specific locations and roles, each one fills.
Andi Lehman, Life with Animals
Andi Lehman, owner of Life with Animals, has over thirty years of experience in the conservation, rescue, and rehabilitation of domestic animals, exotics, and wildlife. An author and editor, Andi wrote the grant proposal that helped establish the Arkabutla Lake Wildlife Rehabilitation and Nature Center (the ARK) in North MS, and she has published stories about animals in multiple anthologies and periodicals. Her children's book, Saving Schmiddy, will be available in October. For more information, visit AndiLehman.com.
Featured Programs:
The Most Wanted Bird in MS—European Starlings: Pests or Pioneers?©
Should starlings be granted citizenship? Learn what Rachel Carson thought about the starling, and then meet a live ambassador for his kind before you decide. Andi Lehman from Life with Animals and "Shakespeare" consider one invasive species, its impact on our environment, and our choices in response.
Who Lives in your Backyard? Reptiles and Mammals and Birds, Oh, My! ©
Andi Lehman from Life with Animals identifies some of the most common birds and animals in a MS backyard and introduces several live animals from each group. Fun and educational for the whole family, come see how much you know about your neighbors in nature!
Mississippi Museum of Natural Science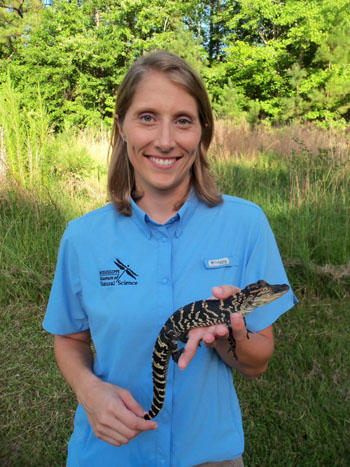 The Mississippi Museum of Natural Science has four Outreach Educators that cover the state. Deb Waz is the educator for north Mississippi, and holds a Masters in Conservation Biology. Jackie Henne-Kerr covers the delta/central region, and holds a Masters in Waterfowl Ecology. They travel their regions visiting schools, community groups, festivals, etc. informing the public about wildlife and endangered species in Mississippi. Each educator is a Project WET and Project WILD facilitator, helping teachers learn how to integrate wildlife and water education into their classroom.
Featured Program:
Mississippi Museum of Natural Science Creature Features: Close Encounters with Live Animals
Deb Waz and Jackie Henne-Kerr will be bring their coworkers ( American alligator, snake, turtles, and others) with them to the Festival for short, child friendly introductions. Each Creature Feature will showcase one of more of their co-workers and allow folks to meet some of our native Mississippi wildlife up close!

To learn more about the Mississippi Musem of Natural Science, visit: http://www.mdwfp.com/museum​
Robin Pigot
Robin Pigot is a master beekeeper with a special interest in sustainable beekeeping. He also spends his energy restoring land to support pollinators and particularly "the other bees": the bees native to the United States.
Featured Program:
Native Bees of the Southeast
Robin will discuss how to identify and differenciate a bee from other insects. He will also cover some of the peculiarities of the over 20,000 species of bees, focusing on those native to the Southeastern United States. He will also provide tips to attract, preserve and settle native bees in your yard.
Holley Muraco, PhD
Holley Muraco is a full-time dolphin scientist and part-time entomology hobbyist. She loves moths and butterflies. She began seriously researching moths and butterflies in 2018 and started her own backyard insect research laboratory. She learned how to breed and rear giant silkmoths and monarch butterflies. Additionally she began planting a variety of milkweeds, native plants and rich nectar plants in specific locations around her property to study what was most utilized by monarchs and other butterflies.
Featured Program:
Monarchs in Mississippi: The Knowns and Unknowns
As a trained scientist, Holley realized that there is a lot of misinformation on the internet when it comes to subjects such as the beloved monarch butterfly. She also found that there has been no scientific research conducted on monarch butterflies in Mississippi. She is excited to talk with guests at The Hummingbird Migration and Nature Celebration at Strawberry Plains about what she has learned about monarchs in Mississippi and what research remains to be done.
Matt Nielson, Green Groves Inc.
There are two overlapping circles in Matt's world: people and plants. Matt has a degree in horticulture from Auburn, 12 years in a sales & education role at one of the finest tree farms in the southeast - Select Trees in Athens, GA, 3 years as COO of a constantly pivoting startup business, and finally 2 years with Green Groves, a consulting arborist business he started based in Oxford, MS. Matt is passionate about creating spaces where people and plants beautifully cohabitate. He loves sharing his methods to practically integrate native plants into the suburban landscape and is thrilled to be part of this year's festival.
Featured Guided Walk:
Design and Construction Methods for the Home Landscape-Lessons from the Davis House
Join Matt for a disscussion about integrating native plants into your household landscapes. While touring the Davis House garden renovation that is currently in progress, he will discuss design options as well as point out practical tips to consider when incorporating Mississippi's wide variety of native species into your yard.
James E. Starnes, Geologist, MDEQ Mississippi Office of Geology
Featured Program:
Mississippi Fossils, a Window into our Rich Geologic Past
Come learn more about the fossils found throughout the state of Mississppi and the story they tell of what our state use to look like.
How you can help, right now
Join Our Flock
Help us promote wildlife diversity and inspire people to take conservation action. Come learn about using native plants around your home or best management practices for your land.